Grow Your Business Using Local SEO Services In Dubai
You can't focus on a single aspect of local search and hope to do well. Instead, you need a complete local strategy that covers all aspects of your local online marketing.
We have spent years perfecting what works and what doesn't so that you can get sound services and sound advice. There are no miracles, no instant rankings, just hard and focused work that is built to last.
Small businesses face different challenges when marketing their companies than larger brands and businesses.
For local businesses, showing up at the top of search results is important, but only if it's in the area your company serves. Nowadays, it's not enough to just have a brick and mortar store and traditional advertising, you need to have an online presence. Have a website not only helps users find and learn about your company, it also builds the trust of your brand.
If SEO is a magic act, local SEO is the prestige that people will remember, while they will simply turn oblivious to the rest of the act. If you have done everything right, but you have not optimized your business website for people in your business's vicinity, it is as though you did not do anything to optimize your website.
Local SEO is the lifeline of a business whether it sells products or services; 90+ out of every hundred people Google for products and services in their area; Kamil Web Solutions will see to it, that when they do it next time for your niche, not only your company's name pops up on top, but it has a full shebang representation of your business.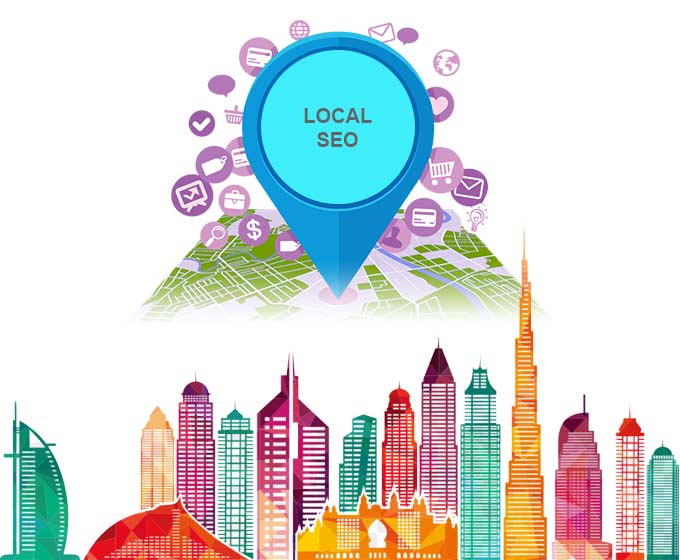 Our Services And Why Choose Us?
Our professional website design expertise, combined with in-house local SEO services in Dubai & Ras Al Khaimah, make us the #1 local SEO services in Dubai company. We've worked with startups to Fortune 500 companies, increasing brand awareness, growing leads, drive customers to stores and maximizing online sales.

Techniques That Work
We track what local SEO strategies worked with similar clients, so we know we are executing what we know to work.
Local SEO Campaigns
We are known for being a top rated local marketing agency, giving proven results to hundreds of clients nationwide.

Monthly Reports
Kamil Web Solutions custom SEO reporting system gives you the ability to view interactive monthly reports that highlight key stats for your site

Trusted Google Partner
We are Google Partner company, so our in-house team of SEO experts is ready to assist you with anything you need.
What Makes Us Different?
To us, local SEO is not all about Google My Business; it only starts from there. We make sure that your brand gets known with a clear business model, complete business name, address, phone number and location map etc.
However, this is only the beginning; local SEO is about making your brand known to people who search for a product or service you provide, and this is exactly what we offer. We take it beyond Yellow Pages.
We devise for you a business model (based on your product and/or services) that is more along with the lines of Google local SEO guidelines.
We make website content recommendations that, if acted upon, will put your business on its way to the first spot in search results for your niche, in your area.
We take care of the technical matters on your domain, which, if not taken care of, will always stop your website from ranking higher.
We make sure that your business is properly listed for review platforms such as Google, Yelp and Facebook etc.
We clean up any duplicate listing if it exists to kill the confusion and see to it that each person who searched for the products and/or services that you offer, does not find duplicate names and addresses etc.
We spread the word about your products and/or services through an extensive social media marketing campaign, and by doing so we enforce your local listings.
Frequently Ask Questions
Is it necessary to meet in person?
We will communicate with you via email and telephone, as well as via our online server so you can see the work in progress.
What services do you provide?
Our client is contains a wide range of companies of every size, from small upstarts to large companies and in every industry, from food and technology to travel and finance.
Have you ever outsourced your services?
We're glad you asked! This is one of our most commonly asked question. Although it's common these days for companies to outsource their services to third parties, we are proud to say that we never outsource.
Nearly all of our services are performed in-house. The only exception to this is our content writing services, for which we use a team of talented freelance writers from around the world.
What is the Estimation cost to build a website?
The cost of building your website depends on many criteria. For example, a basic website will be less expensive than a more complex custom site will cost more. We'll discuss your needs and give you a quote based on your requirements. Pricing is outlined on our Pricing page.
How long will it take to build my website?
That depends. The length of time it takes to create a dynamic, fully functional and feature-rich website can take upwards of about 3-4 weeks, depending on the number of revisions you want us to make. From there, we'll need an additional week or so for the development phase. These are just guidelines though. We'll discuss your preferred timeline and make every effort to meet your deadlines.
What sort of clients do you work with?
Our client is contains a wide range of companies of every size, from small upstarts to large companies, and in every industry, from food and technology to travel and finance.
Will my website also be mobile supported?
Yes. All of our websites are designed to be both responsive and mobile friendly, putting you in the palm of your customers' hands.
I have a website, but it needs to be updated. Can you help?
We sure can. We'd be happy to look over your website and make suggestions on how to improve/update it. We'll give you a quote for the service, just as we would if we were starting from scratch.
Do you provide search engine optimized web design?
All of our websites are create in compliance with current search engine guidelines. That being said, it's always a good idea to have your website checked over time to ensure continued compliance, as search engines do change their rules periodically and you will want to ensure compliance. Our SEO services can help with that.
Can I see my website during the development process?
You bet! We want you to be 100 percent happy. During the development phase, you'll have access to our server, so you can see your website as it's in progress. If you see something you don't love, let us know and we'll make the changes you want.
Once we're finished, we'll let you see the finished product so you can approve it or suggest changes you'd like to see. Once it's approved, we'll set our creation free on your server and submit your URL to the search engines.
I already have a website. Can you do marketing for my website?
Yes. We can offer you both PPC advertising services and SEO for our clients who already have an existing website. We will review your website and make recommendations for how we can use our online marketing strategies to help bolster your website's traffic and visibility.
Is there any cancellation fee?
No. You can decide to cancel our services at any time. You aren't locked in to a contract and we'll never charge you a cancellation fee.
We need full array of web design and hosting services. Can You help?
Yep!  We are your one-stop, all-inclusive, shopping destination for web services.
Why do I need to outsource my SEO efforts? Can't I do it myself?
Yes, you can take care of your site's search engine optimization yourself. But there are several good reasons that's not a good idea. To be done to maximum impact, you would need to dedicate a lot of time and effort to the project. Our team of experts will dedicate the time, effort and skill to maximizing your SEO campaign.
How long before I can see results of your SEO efforts?
It's important to remember that search engine optimization is not a quick fix; it takes time. SEO takes time to garner results. How much time depends on the results you are seeking and how much competition there is for your keywords. Some keywords will see results on the SERPs within just a few weeks, whereas others could take upwards of a year.
How social media marketing can help boost my business?
Social media is a powerful force these days. It's where people social, do business, gain information and more. By getting the word out on social media about your business, you'll be at the hub of where everything happens. Social media can have a powerful positive impact on your business.