Trusted By
We are proud to have worked alongside many of the leading entities in the UAE

Award Winning SMM
Services, UAE
Helping Brands Grow on Social platforms
Social media is the most powerful marketing technique right now. In 2021, around 9.84 million people used social media every day. That's about 98.98% of the total UAE population which is startling. Hiring social media marketing services in Dubai is ideal for engaging this enormous audience.
We at Kamil Web Solutions help businesses establish their brand presence on all social media platforms. Our social media marketing solutions include content writing, audience engagement, SMM campaigns, auditing, and reporting.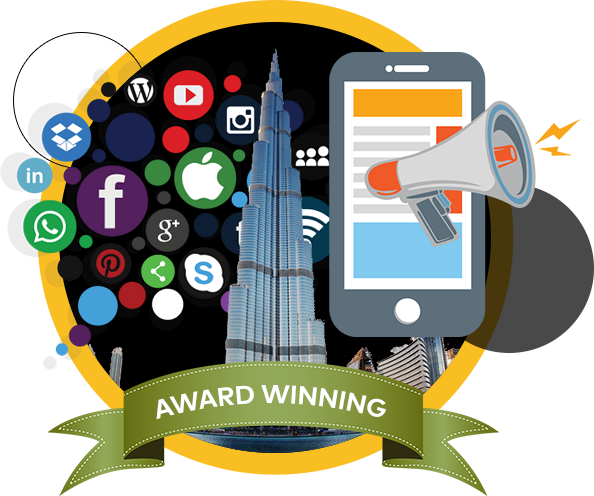 Social Media Marketing Packages and Prices
Our Social Media Marketing Services in Dubai
We offer social media marketing services for small businesses as well as large enterprises. Following are our social media marketing services in Dubai.
The biggest social media platform has 2.9 billion users globally, of which 7.77 million are from the UAE. We help you reach this audience by setting your brand page, building your fan base, and marketing your services to your targeted audience.
Reach out to 6.68 million UAE people with our Instagram marketing services. We are helping B2C businesses sell their products and services online. Let us manage your social page and get noticed by 1.452 billion users across the globe.
Stand out among the competition on Snapchat and attract your audience with eye-catching visuals. We know how to build followers and keep them engaged through interactive stories. Our team can help you connect with your audience in real-time.
Establish your authority as a business on LinkedIn to improve sales. There are 5.91 million LinkedIn users in the UAE to whom you can pitch your services. We know how things work on this professional platform and how to generate leads.
Establish your authority and become a thought leader to grab more sales. Kamil Web Solutions is the best social media marketing company in Dubai that can help you utilize trends effectively to generate leads and achieve your marketing goals.
Promote your brand through WhatsApp and improve your social media marketing strategy. We help brands create and manage their WhatsApp Business accounts to strengthen their social media presence, increase sales, and build customer relations.
Include Pinterest in your marketing and get access to a whole new audience. Let us inspire and charm your audience with tempting images and infographics. Our team knows how to market products and services on Pinterest and generate leads.
One of the best social media marketing channels is perhaps YouTube. We help businesses spread awareness and engage their target audience by creating captivating videos and promoting them on the platform.
The short-form video-sharing platform has a huge audience of its own. Our skilled social media team helps brands in creating profiles and finding the right audience. We don't simply run campaigns but assist businesses in generating leads.
What they are
Talking about
Kamil Web
Solutions
"Great, Thank you so much. A very Fast turnaround"

Coley
"Everything is okay and your service is top notch I love it"

Emmanuel
Thank you that's awesome, you look like a professional company.

Remco
"Compile a list of backlink opportunities (websites that have a good possibility to get a link from, guest posting)"

Justin Davis
"Kamil Web Solutions has been an excellent lead who has timely engaged us all for all sorts of project related queries. "

Impressive SEO Agency
Why Choose Kamil Web Solutions?
We are committed to providing our clients with creative social media agency services. It doesn't matter whether you are a startup, small business, or a large enterprise; we believe in offering outstanding service to each client. Our social media experts follow the best industry practices to deliver social media marketing solutions.
Our Social Media Marketing Process
We treat every project equally and put our heart and soul into accomplishing what we have promised. When you hire our social media marketing services in Dubai, our efforts are dependent on social media management packages Dubai. Nonetheless, we strive to deliver results in the shortest time.
Still Confused About Social Media Marketing?
Talk to our experts and see how your brand can grow online.
Frequently Asked Questions
What Is Social Media Marketing?
Social media marketing is a type of digital marketing in which promotion is done on social media apps. This form of marketing helps businesses interact with customers directly and assist them in generating website traffic or selling their products or services.
What Are the Benefits of Social Media Marketing Services?
Social media marketing increases brand awareness and helps businesses understand their audience's interests. You can tell your brand story, engage a huge number of customers, and strengthen your customer service online.
Why should I need social media for my business?
More than half of the global population (4.62 billion people) are on social media. What's more interesting is that the number is increasing every day. This makes social media platforms an ideal way to market your business and generate revenue.
What Services are Included in Social Media Marketing?
Common social media marketing services include:
Facebook Marketing
Instagram Marketing
LinkedIn Marketing
Twitter Marketing
YouTube Marketing
TikTok Marketing
What is the Most Effective Social Media Marketing Platform?
According to market research, Facebook is the most effective social media platform for businesses. This social media channel is ideal for B2C marketing, whereas LinkedIn and Twitter are suitable for B2B marketing.
How long does it take to show results in SMM?
The best thing about social media marketing is that it offers quick results. You can start seeing organic results within two or three weeks. Moreover, you can generate instant leads by running social media paid campaigns on popular platforms.
How can I measure my success rate in social media marketing?
The results and success rate of social media marketing are measured in many ways. It all depends on what goals you have set for your brand. Brands normally use analytics tools to measure success in terms of increase in followers and leads generated.
What will be included in social media posts?
We create social media posts based on your marketing goals and target audience. This includes all types of content (text, images, infographics, GIFs, and videos). However, only 20% of total posts will be promotional while 80% of posts will be shared to engage the audience.
How can I keep track of social media activities?
We will keep you updated about the activities and our team will also share monthly reports. For clarity purposes, you'll also have access to your social media accounts and dashboards. This means that you can monitor everything that we are posting on social media 24/7.
How much does social media marketing cost in Dubai?
The answer depends on your marketing goals and current social media presence. Normally, SMM costs anything between AED 7,500 and AED 18,000. But again, social media marketing packages, UAE vary according to the client's needs.