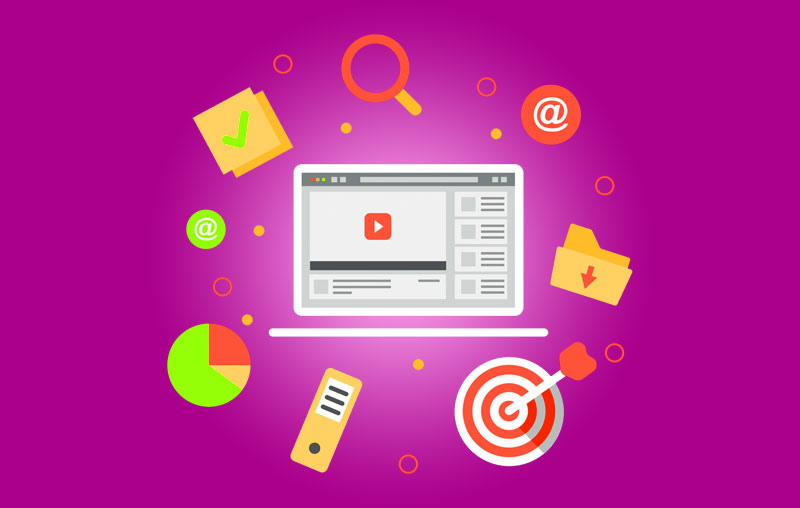 YouTube is one of the most underutilized social media channel when it comes to marketing. Most SEO experts don't even know the full potential of how Youtube can help bring traffic to their website.There have been many cases where people have used Youtube to build their subscriber base and earn money from it. Many youtubers are now trying to earn money through Youtube but using it to bring traffic to your website is one option that not many rely on. A few reasons for this is:
Traffic from Youtube is mostly spam
Most people are not interested in clicking on website links available on Youtube
It is really difficult to get relevant traffic to website if you are selling a product/service
Traffic coming from Youtube is not ready to convert
Youtube mostly sends traffic from countries with low online buying potential
Most of the traffic from Youtube wasn't converting, I did receive a steady stream of traffic during the whole year. Here is a snapshot of what were the numbers like: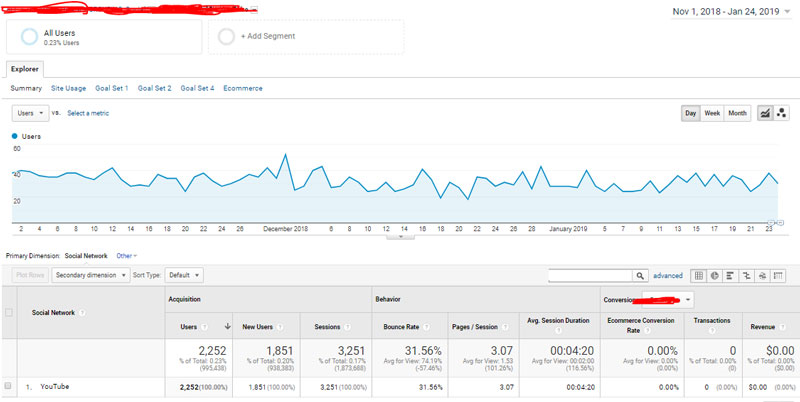 This is the graph of last three months. I have recoieved a constant stream of traffic from Youtube to my website. As you can see the people who came from Youtube had a low bounce rate and were interested in the content. Most of them were retuning visitors and spent around a few minutes on the website.
The reason I added this graph was to show you that what I am saying is actually possible and that I am not just someone who talks and doesn't act on his words.
Now, back to the topic 'BRING TRAFFIC FROM YOUTUBE'
Understanding Youtube Platform & Ranking Algorithm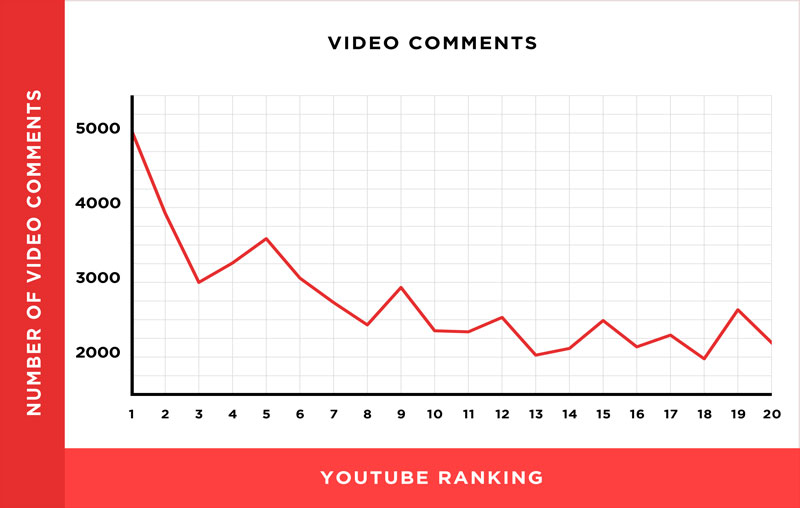 Youtube works a lot like its brother Google search i.e. providing content based on user recommendations and interest. People prefer Youtube over any other video channel because the content they like the most gets the top ranking.
People even sell products, do affiliate marketing, earn directly from Youtube, and do sponsorships through Youtube. A few days ago Forbes released a list of the best channels on Youtube.
According to the list, a channel by the name of 'Ryan toys' made a massive amount of money last year only through Youtube alone.
The total amount he earned grossed to around $22 million. This is even more than what an average rock star makes in his whole life. See what;s the potential of Youtube?
The reason Ryan's channel gets so much traffic is because it is from a kid. People like to watch kids. In fact, other kids also like to watch Ryan because he is reviewing toys and products.
Here is how an average video looks like on Ryan's channel.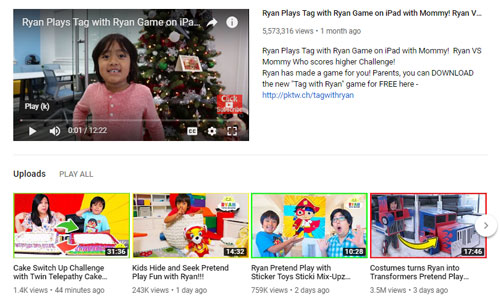 Most of his videos are not optimized for content but they are still getting top places in Youtube searches for relevant keywords. Here is an example.

Now, if I search Youtube for 'Legoland' I will see Ryan's video at the top of the list. Why? Because that kid has multiple videos on the topic and the content is ORIGINAL, CREATIVE, UNIQUE, SILLY. These are just some reasons people prefer watching that kids channel.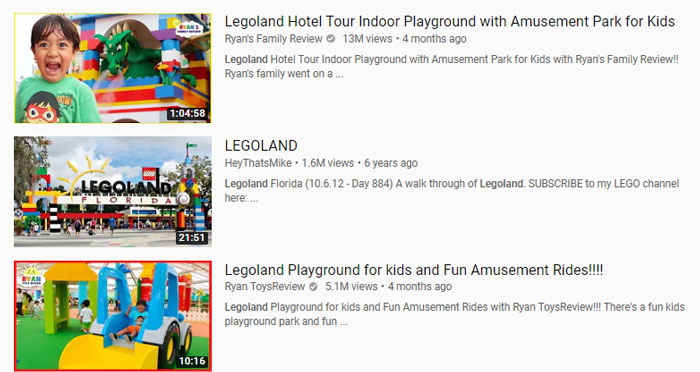 Another thing to note here is that Ryan is hijacking the top places on Youtube just because he has multiple pieces of content related to the keyword.
Unlike Google, where your keywords can cannibalize content of other web pages of your website, Youtube allows multiple videos of the same channel to be ranked for a single keyword.
Moreover, because Ryan is already a popular channel, it easily makes to the top of the list for any keyword it makes a video on. So, just remember that if your channel is POPULAR, it is easy to rank it.
Next, just see with how much consistency Ryan is adding content to his channel. We have used Social blade to determine the age, ratings and quantity of videos Ryan has posted on Youtube. Here are the results: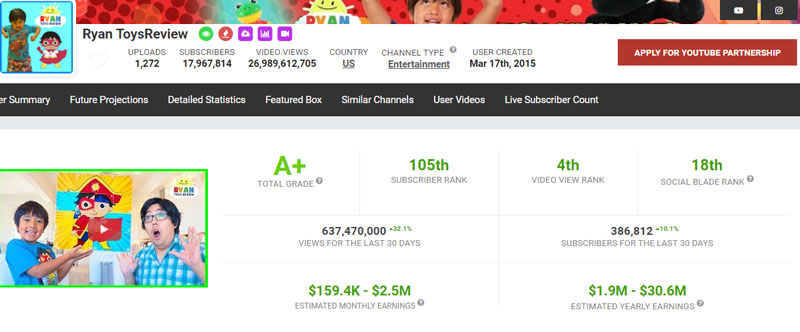 You can see that the channel has more than a thousand videos and all are about toys! This brings us to our second point, CONSISTENCY!
Also, you need to remember that beating around the bush is not an option when it comes to creating a popular Youtube channel that can bring traffic and revenue for your website.
You need a NICHE! Just as Ryan has focused on creating Toy review videos, you can do something similar that illustrates your services or products.
It will not only make you an experienced Youtuber but also provide you fame that you need to market your products reliably.
A few points to note here are:
You need quality content to rank on Youtube
Add quality and combine it with consistency to get the best results
And finally, the content should be focused on a single niche. If you beat around the bush, people won't understand what your channel is about and simply won't subscribe to it.
That's the first lesson about how to get more traffic on YouTube?
Now that we have it answered, let's move to the second question and that is: How to do seo for Youtube videos.
How to do SEO for Youtube Videos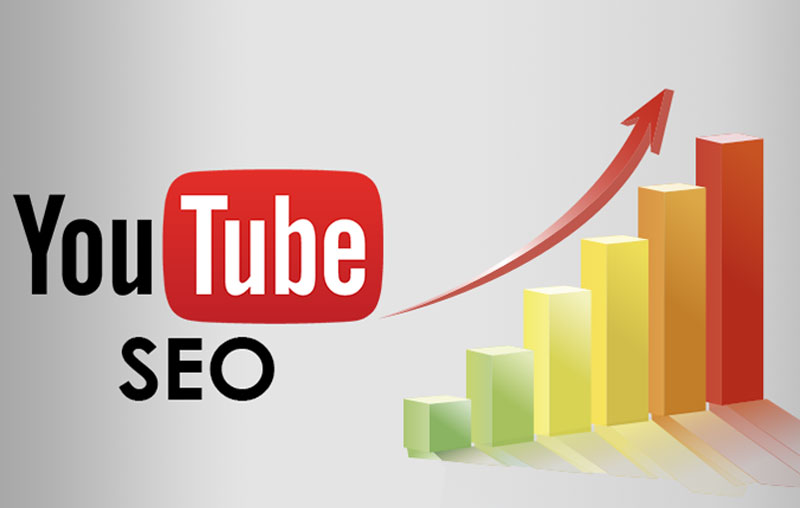 SEO for Youtube videos is no different from the SEO you do for your websites. Instead of meta titles and descriptions, Youtube has kept it simple. Simply add the following to your Youtube channel.
Title
Description
Tag
Alt text
Caption
Playlists
Channel Name
You need to have the keyword of your channel in all of these places. Also, you need to understand the difference between channel wide keywords and video specific keywords.
For example, if you have a channel about tech reviews. The channel should be ranking for these keywords: Tech reviews, tech product reviews, tech product videos, technology product reviews, etc.
Selecting Keyword for Youtube Videos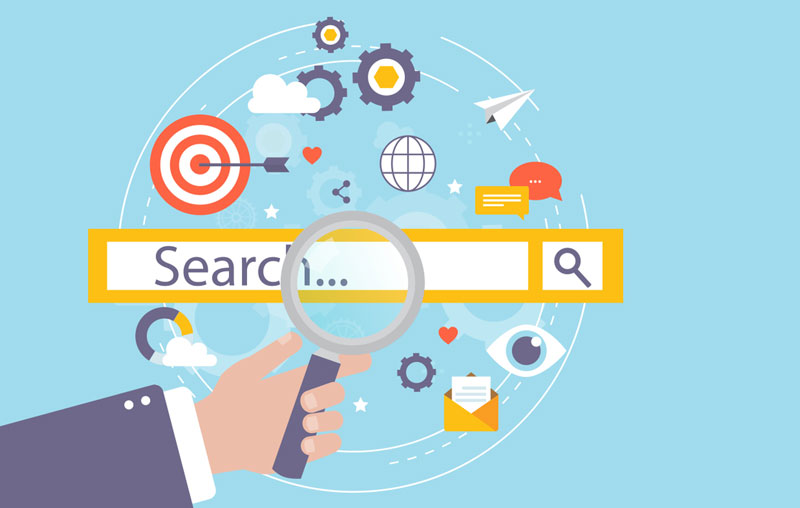 While your products should be ranking for product specific keywords such as GTX 1080 graphic card review, GTX 1080 graphic card working, GTX 1080 graphic card box opening and many more…
Now that you have selected the keyword for your Youtube video, let's see the placement of these keywords within the video.
According to Backlinko, the keyword should be used in the first 25 words of your Youtube description. But a good way to optimize the content is by adding the keyword to your title, description, tag box, and alt title.
SEO for Youtube Videos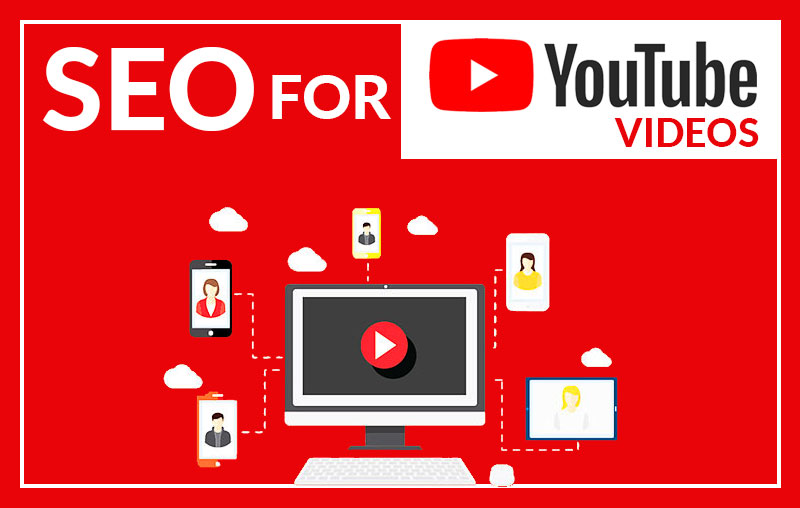 Here are a few instructions you need to follow to optimize your Youtube videos for keywords.
Include your keyword in the first five words of the video title
Include your keyword in the first 25 words of the video description
Make the description at least 250 words
Include your keyword 2-4 times in the Youtube video description
Add LSI keywords in your content to boost rankings further
Your videos need to be properly optimized, edited, and focused on a single topic
Add keywords in videos cards to get more clicks to website. You can add only a single verified website to your channel.
Make sure to add a call to action within the video that makes people come to your website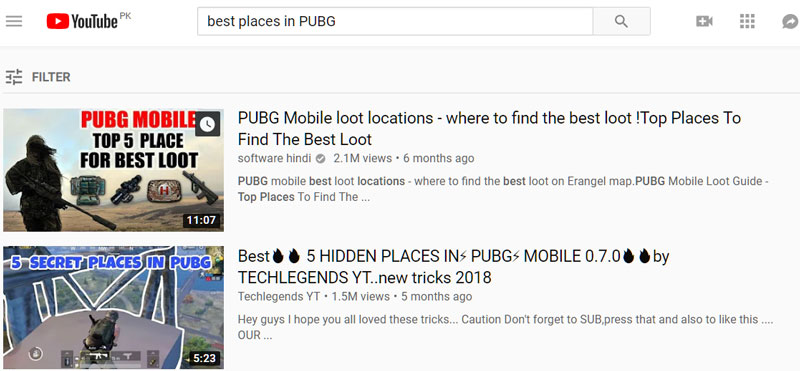 In this above video, you can see that the two videos ranking for the keyword have it available within the content. First video has written 'Top' instead of best in the headline.
But it has used the word 'best' in content of the website. Also, you should note that the video is from a verified account so it is ranked higher in searches. One more thing to note here is that the video in the first account was posted one month before the second video.
Now, let's see the second video in the list. One reason it isn't ranking higher is because it has used too many emojis in the title that has separated the keyword.
The second video doesn't have the keyword in the description that's another reason it isn't ranking higher. One more thing to note is that the account isn't verified.
Share Youtube Videos on Social Media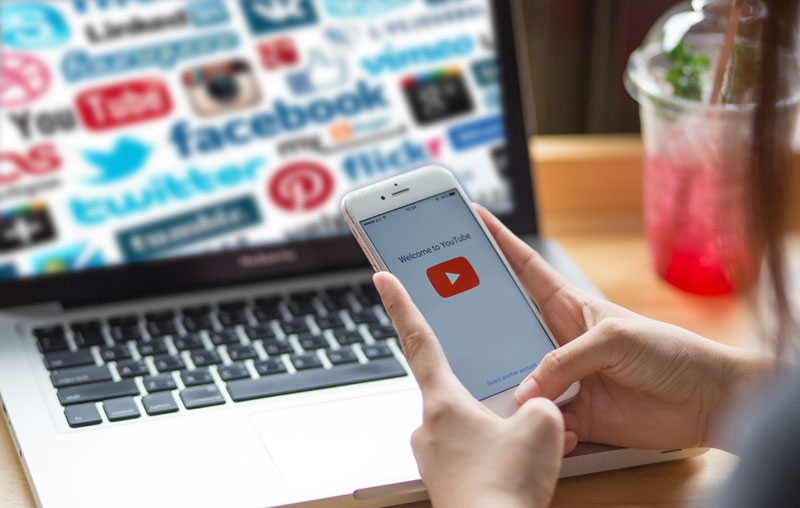 You may need traffic on your website and you must be wondering why do you even need to promote your Youtube videos when you want to get traffic from this channel to your website. The reason is that if you don't promote your Youtube channel, it won't grow.
And if it won't grow, it will not bring relevant traffic to your website. In fact, Neil Patel has written some actionable tips to increase Youtube video subscribers.
In the article, Neil says that you should share your videos on social media channels such as Twitter, Facebook, and Linkedin because it will bring more eyeballs to your videos.
In fact, people are more likely to watch videos that are directly uploaded to Facebook and Twitter. So, what you can do is create teasers with link to original video and upload them to Facebook, Twitter, Linkedin and other social media channels.
This way, those who are interested in the full video will land on your Youtube channel. You can now ask them to subscribe to your Youtube channel.
Build Email Links to Your Youtube Channel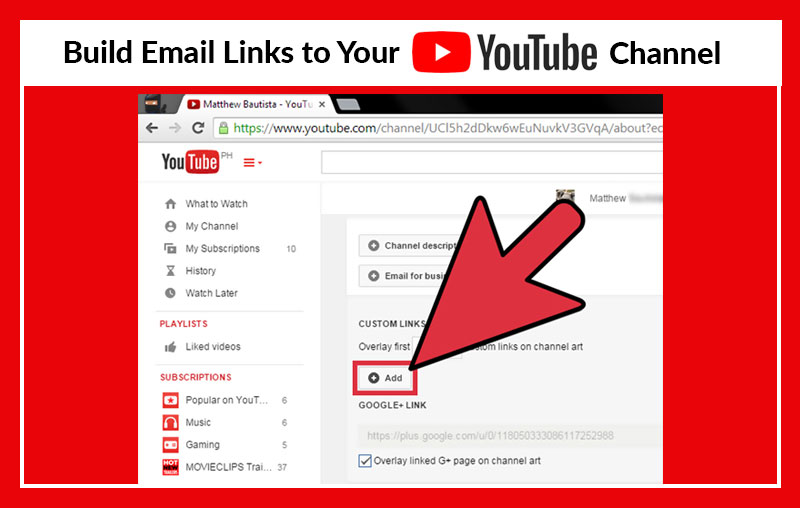 Youtube videos get better rankings when they have links pointing to them. This is because Google has added backlinks as a relevancy factor for ranking Youtube videos.
Apart from links, Comments, Likes, and Videos of the video are some factors that impact video rankings.
So, make sure that your video is getting links from forums, QnA websites, and even blogs. A few places that can offer free backlinks are Quora, Medium, Tumblr, and other web 2.0 properties.
Create Clickbait Thumbnails
You must have seen that some videos on Youtube do better than others. The reason? Because they have better thumbnails. Yes, thumbnails play a decisive role when it comes to selection of which video to choose.
Those videos that have something stunning, vague, bizarre, unique, or anything that can create the 'Wow' factor are more likely to get clicks.
Here are a few examples of killer Youtube video thumbnails.

Will you click on the video provided above? I am sure you will out of curiosity. And in most cases, the image posted in the thumbnail is not found anywhere within the video.
But the good thing is that it still ranks in searches! And, when it ranks higher in searches, it gets more traffic. You can now reroute this traffic to your website.
Make the video controversial but don't cross the limit
If you can make the video controversial, then there is a chance that it can even go viral. For example, this video of 'Android vs iPhone' has received over 5 million views for the video. And the video is just 3 minutes long.

This video will also get a lot of comments because it is on a topic that impacts many people's lives.
While creating content that's controversial, make sure that it abides by the law. For example, you can't create content on sensitive topics because they are usually banned by many countries.
In most cases, they can also lead to demonitization or ban from Youtube as well. For example, one video of Logan Paul, a Youtuber was banned because he accidentally showed the face of a dead body in it.
Create Playlists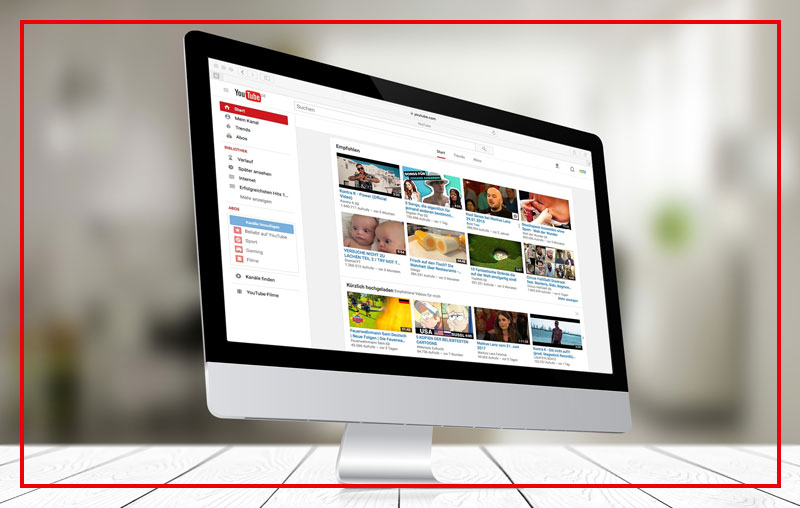 Playlists are searchable and often get ranked in Youtube on the first page. If you have more than one video on a topic, you can create a playlist around it. Or, if your video is part of a series i.e. how to video, review, tutorial, etc, you can also create playlists. Just optimize the title of the playlist by adding a keyword in it. For example, this guide by Ezra Firestone is a playlist.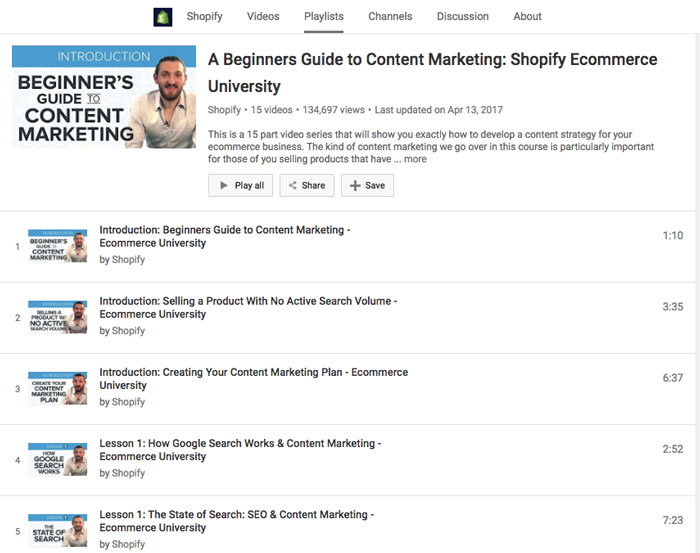 But it will also rank for multiple keywords available in the video including Google search marketing, content marketing for Ecommerce, guide to content marketing and many more.
In short, playlists can give you an edge that the videos without playlists simply won't have.
Now that we have a fair idea about how to bring subscribers to your Youtube channels, let's discuss how you can direct traffic coming to your Youtube channel to your website.
Link in Description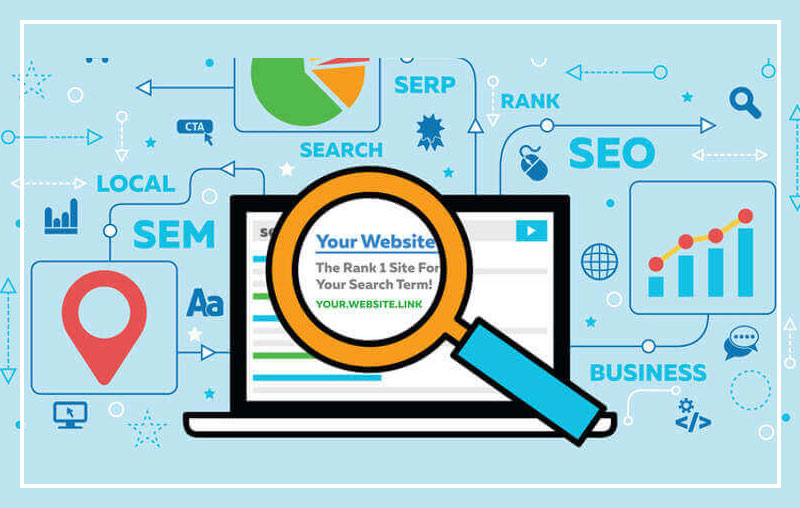 Make sure that the link of the Youtube video is after first paragraph of the description. This is because Youtube rolls all the content in the description field except for the first few lines.
When the link is in the first paragraph, people will click it even if the description is folded. This increase traffic and reduces bounce rate as more people will be clicking the website that are actually interested in the product.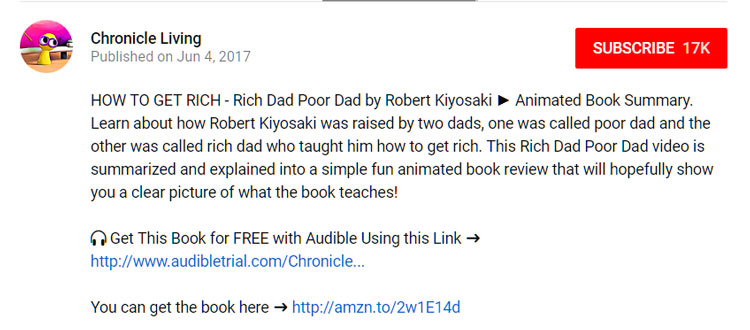 Take a look at how Chronicle Living has places the link right after the first paragraph. You can also use the same pattern to place links. Remember the white space here. The Youtuber has used it effectively.
Add Link Cards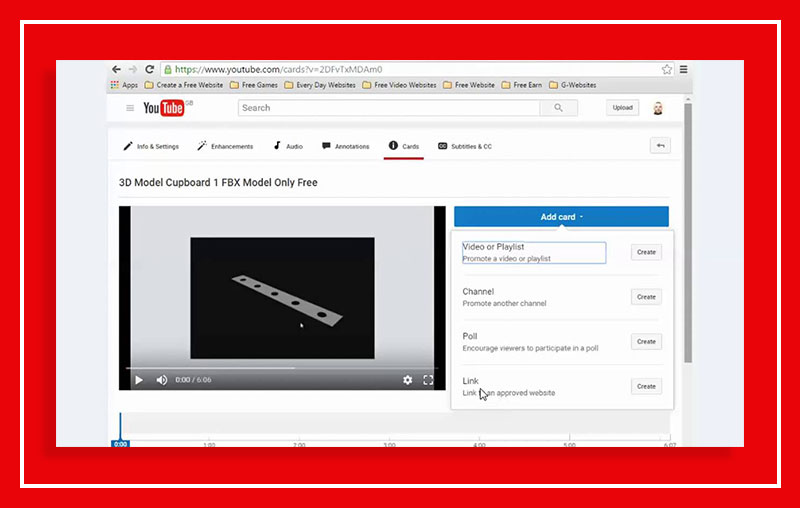 Next, you can add link cards to your video channel on Youtube. Not everyone can create a Link card. You can add link card to your Youtube channel only if the Youtube channel is verified, and the website belongs to you.
Once you have the card added to the Youtube video, it will show up in the card table and the viewers can click it to get to your website easily.
In fact, you can also mention that the link is available in the card or description so they know what to do next.
Mention Link in Video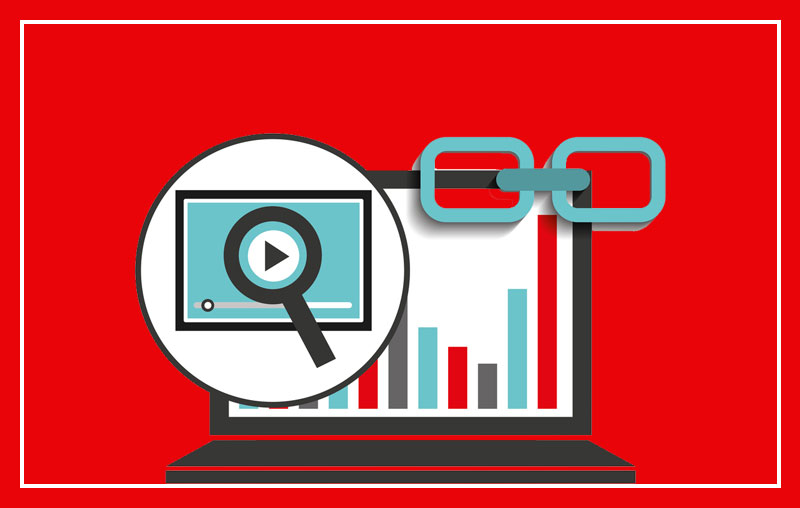 One aspect that most Youtubers miss is of marketing their channel. Take any channel on Youtube, all of them have a core purpose in mind. But while creating content for Youtube, most Youtubers miss this purpose.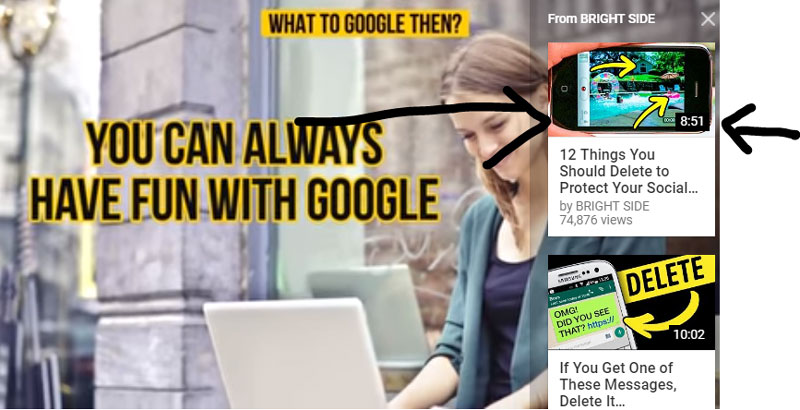 You can actually remind people to watch your content or click on a specific link by mentioning it within the video. This not only improves your subscribers, but it also leads to more sales. In fact, it only encourages people who are actually interested in your product.
Pinned Comment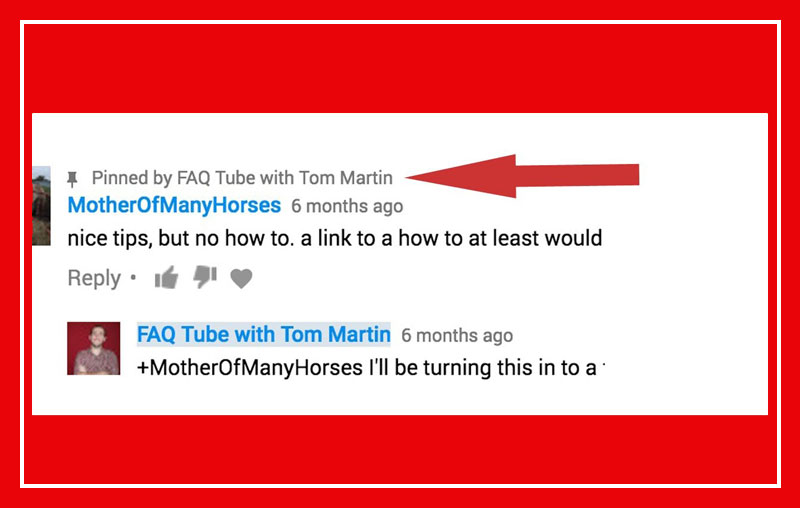 Another way to make the link prominent is by pinning it at the top in Youtube Video. When people watch a video about a topic, there is a high chance that they will read the comments. So, add your own website URL in the comment section. By adding link in the comment, you not only improve CTR but also conversions.

As you can see, in the above 'Pinned comment' Bright side has only asked a question because it wants to increase engagement on its website. You can add your link to get these visitors to your website.
That's it. You can use these techniques to bring more visitors to your website. And, if you have any question then check the FAQ section of how to rank Youtube videos online.
FAQs for Ranking Youtube Videos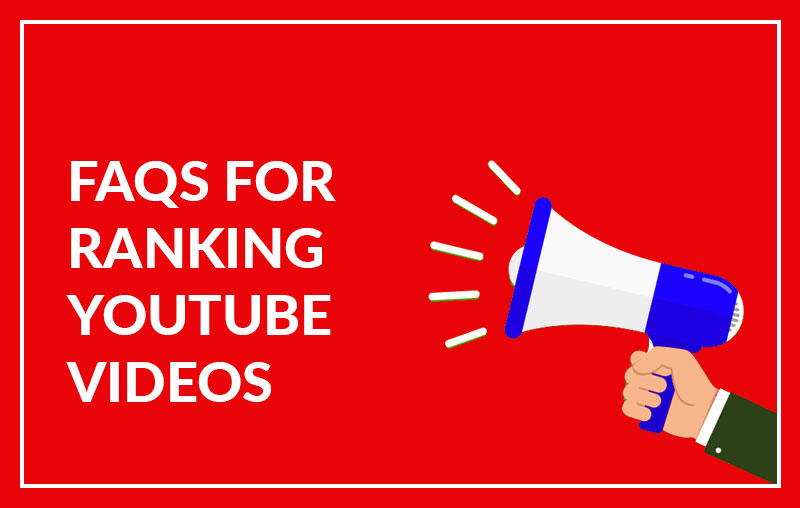 Some most common questions that people ask about how to rank Youtube videos higher in searches.
How to rank youtube videos fast
There is no shortcut to ranking Youtube videos online. You have to properly optimize them and let the Google algorithms rank them higher.
The only way you can boost the rankings is by sharing them on social media websites, making backlinks around them, and changing the description by adding relevant keywords in it. If the keywords you added don't work, simply come up with other keywords and try to rank for them. Soon your video will rank in Youtube search results and bring subscribers.
What are the best seo practices for youtube videos
Some best practices to rank Youtube videos higher are:
Focus on a single primary keyword for each video
Make sure that the video is properly optimized. To know how to optimize the video read the above Youtube optimization guide
Give the Youtube videos a push by sharing them in your social circle
Add cards and links of your website in the Youtube description so that you can route the traffic to your website
How to build youtube keyword strategies
Having a proper keyword strategy can increase your rankings manifolds. You need to understand that a single keyword won't cut it.
You need LSI keywords in a single video so that it can rank for multiple keywords. So, a good start is to search for a single keyword and make a list of all related keywords that you can rank for.
For example: Our keyword is 'Legoland'.
We will search this keyword in Google, Youtube, and other keyword searching tools. You can use KWfinder, Ahrefs or any other that you like. If you are new and have small budget, then simply search for the keyword on Youtube and Ubersuggest.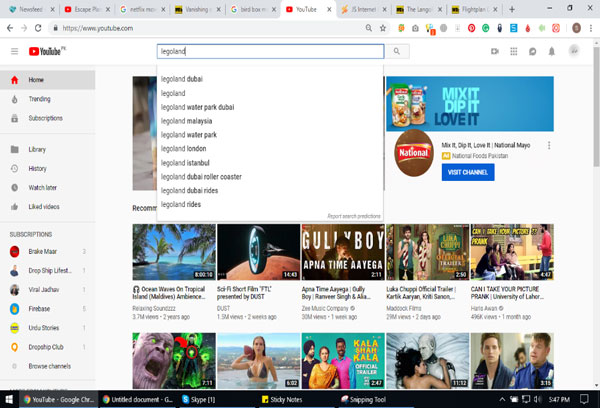 You need to be more specific when you search for the keyword on Google related searches. As you can see, we have searched for Legoland Dubai instead of Legoland alone because that is difficult to rank for and shows varying results.
Similarly, you can search for the same keyword on Ubersuggest to get more ideas and find out the keyword difficulty. Keywords that have a high difficulty score are harder to rank for.

As you can see that Ubersuggest shows almost the same results as that of Google similar searches. The only thing different is that it adds keyword difficulty score and search volume to the list that shows you the complete picture.
Conclusion
These are some of the best ways to increase traffic to your website through Youtube. Just remember it is all about test and error. So, make sure