"Brands are reliable and trustworthy businesses."
That's how a normal man sees brands – so does Google. Everyone prefers brands over an unknown business.
If you have an online business, you should practice brand building signals. It will increase your traffic and sales.
Brands rank easily and they are trusted by Google. Some brand examples are:
Wikipedia

Forbes

Cbsnews

NYTimes
You will always find them among the top results of Google search engine result page.
In 2011, Rand Fishkin (Co-Founder of Moz) shared his insight on brand building. It received great feedback and was shared by many leading digital marketers.
While all his points were valid, they are outdated for 2019 trends – except a few.
So, I conducted a research with my team of Kamil Web Solutions.
We studied hundreds of big websites to determine how their digital marketing strategies were different from other generic websites.
We found that almost all websites have similar digital marketing strategies (except the budget difference).
There were, however, a few notable differences in brand and generic websites.
Analyzed with the research of Rand Fishkin, we found that persistent use of these 10 brand building practices will make you a brand that Google recognizes.
Publish Your Own Research and Infographics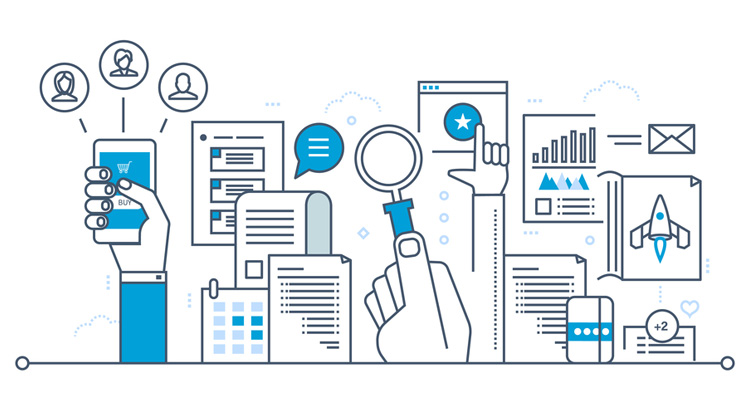 You have to make a name of your business to become a brand.
You want other people of your market to cite your business name on their websites.
For that, you have to provide something valuable to the audience of your field.
One great brand building strategy is to create and publish your own conducted research and share useful infographics.
How will it build your brand?
These are the things that people share – especially, influencers of your field.
You can write on others' research or share your own experience, but people won't share it.
You can see the articles of leading digital marketers; they link to many research and reports.
No one will share the experience of an unknown business, but they will share research-based stats and infographics. And, they are bound to provide the source.
This sharing and citation of your name is crucial for brand building.
Influencers have a big following.
Thousands of their followers will read your business name and know that your work is based on research and knowledge.
That's a big impression for brand building.
Let me give you an example:
I shared the link to an article by Rand Fishkin. It has hundreds of other links.
Do you know why it got so many links?
Because it was his original research and he also used infographics. One infographic was shared by almost every website that wrote on this topic.

Here's what you need to do:
Create useful infographics and content.

Use your brand name or logo on it.

Share it with relevant sites and social media pages.
Detailed About Us Page
One thing common among all brands: "they are very open about themselves."
According to Brian Dean Google TrustRank checks About Us page of your website.
If you have an empty or little or About Us page, it gives an impression that you have never done anything noteworthy.
Be confident about yourself and write a detailed page about your business. Include every detail there is to know, especially what your readers would want to know.
One great example is the "about" page of Moz. It's a well-written user-friendly page with images.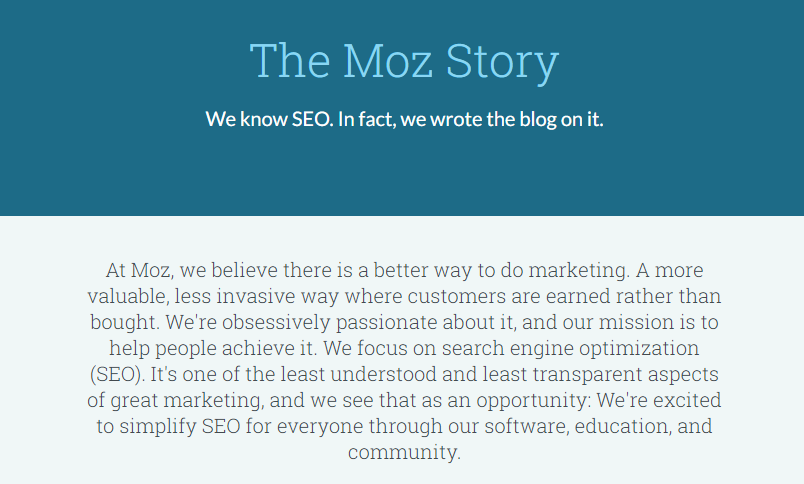 A user visits about us page of your website when he is interested in your product or services and wants to know more.
He will be disappointed if there is nothing much to know.
In short, this page also works as a trust signal for your potential clients.
Real Life Presence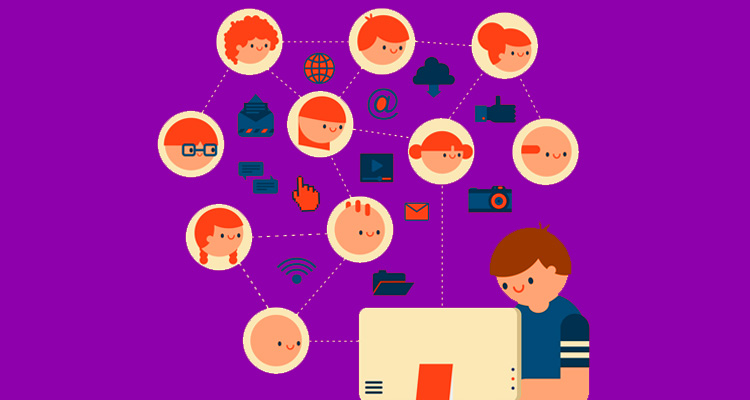 If you have a real business, it must have a real-life presence.
Anyone can get a website and claim he's a tycoon of his market. Google will only trust your website as a brand when it is sure of it.
Rand Fishkin believes that Google checks the real-life presence of every website. Neil Patel, Brian Dean, and Nathan Gotch; all share the same thought.
There are two ways you can build brand signals and show Google your real-life presence.
Optimize Your Domain
It is already discussed that you need to have a detailed "About" page. You must have a Contact page too.
There shouldn't be just a contact form in it. Add every detail there is to mention – for example:
Your Contact Number

Office Address

Email Address

Links to Your Social Media Pages

Fax Number
Office address is more importance here.
Having an office address shows you at least have an office. Every business must have an official address.
Here's how to build brand signals through SEO of your contact page.
Address on the CONTACT page must match the address on Whois Info of your domain.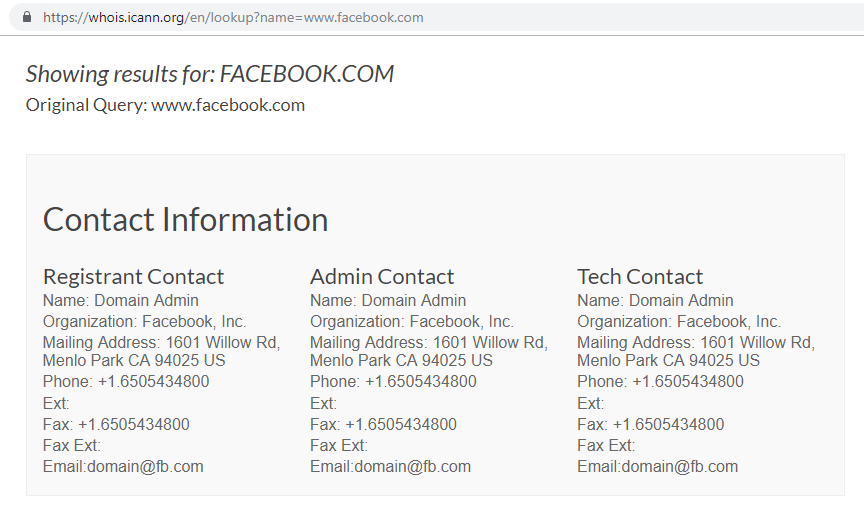 In case you don't know, Google is a domain registrar! It already knows all your domain information.
It is an excellent impression if your domain info is the same as provided on your website. It makes Google trust you.
Brand are trusted sites, remember?
Another important thing: don't hide your information on whois.
Here's how it shows your domain information when you use a service to hide it.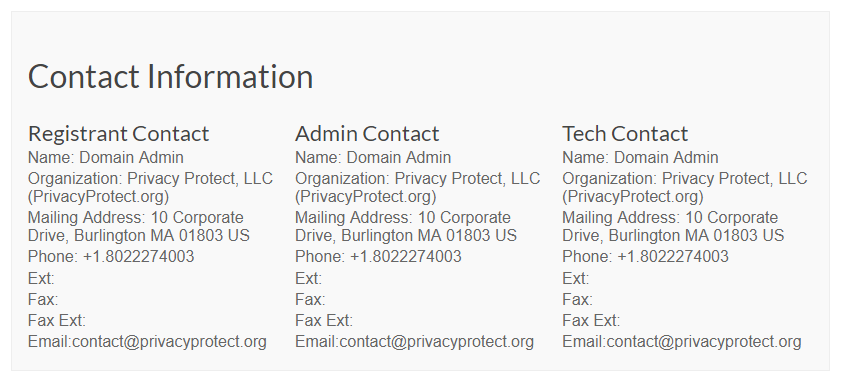 What's more trustworthy?
Hidden domain information

information that matches the contact page of your website
A brand like Facebook certainly had nothing to hide.
Business LinkedIn Account with Employees
If you are business, you should have a LinkedIn business account.
Proper business certainly has employees.
Have your employees create their personal LinkedIn profile and state that they work for your business.
It will increase your LinkedIn business page authority which increases the authority of your site.
Have you seen the LinkedIn page of Facebook?
Apparently it has 39,734 employees. Now, this looks like a brand.

Social Media with Huge Following
Think of a brand.
I bet it has a huge following on all social media sites like Facebook and Twitter.
Let me give you an example.
Forbes has 15.1 million followers on Twitter and 5.7 million followers on Facebook.

Google checks your website following on all social media platforms.
You must secure your brand name and create accounts on these sites:
Facebook

Twitter

Instagram

Pinterest

LinkedIn
Your goal is to increase as much following as possible and get blue verification tick next to your brand name.
Having a large social media following will make you famous in your market which makes it easy for Google to recognize you as a brand.
Register with Relevant Associations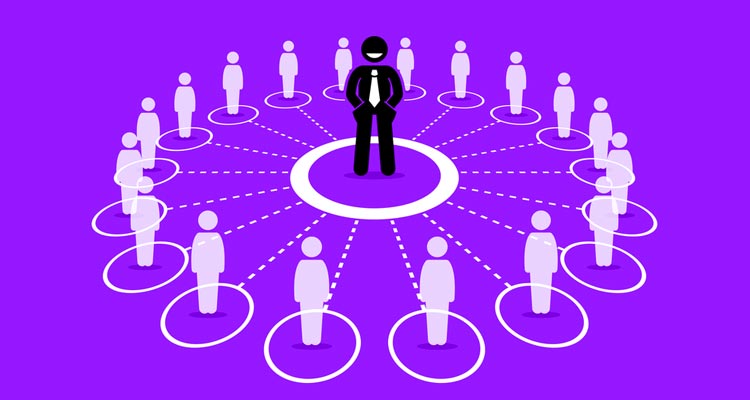 Do you know the relevant directories and associations of your niche?
Create a profile and get a link from all relevant directories that will help Google identify your business niche.
Moreover, sign up for review sites too.
Yellow Pages

Yelp!

Google Places
Some of the good directories may require you to pay them. Recognition from such platforms will be a plus point in your side.
Increase Branded Searches
People search for brands on Google.
For example, the term "Nike shoes" has a monthly search volume of over 1.5 million.

Neil Patel is a brand in the world of digital marketing. His name alone has a monthly search volume of over 50 thousand.
Google knows you have become a brand when people are searching with your business name in their query.
When you get branded searches:
It's a lot easier to rank top because there is literally your name in the query.

Traffic that comes through branded search is more likely to convert because they have already heard your name. Also, follow these

hacks to get more leads

.

Branded searches improve the ranking of non-branded searches of your niche.
Here's a two-step SEO strategy for brand positioning.
Create Curiosity through ads
Run an ad campaign whether online or through traditional channels to create curiosity in your target audience.
Things don't go viral because they are good. They go viral because people were curious about it when they heard it.
Your audience will hear word of mouth, or you can reach them through ads.
Suggest Readers to Google You
Get top review writers of your niche to create and publish positive reviews on your business.
It's not easy as it sounds but has multiple benefits.
You will get powerful backlinks.

Ranking review sites will drive traffic.

You will urge your visitors to Google you which will increase branded search.
Top review sites will appear first when users will search your brand name. They will find and learn things about you.
It will build your brand signals while increasing branded searches.
You will also see it increasing as you practice other brand-building signals.
Backlinks with Branded Anchor Text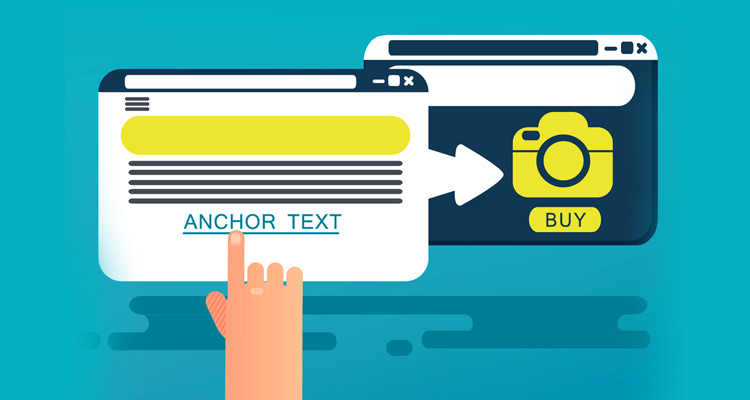 Google crawls through all indexed web documents every time a search is made.
It will create a great impression if it finds your brand name somewhere around the searched keyword.
If it believes there is a relation between the searched query and your brand name, it will prefer your search result.
For this, you should get backlinks with branded anchor text.
Anchor text is the text with a link – usually relevant to the content of the link.
Using branded anchor text will build brand signals through SEO for your business.
That said, too much of anything is bad. Don't overuse branded anchors.
Become a Guest Contributor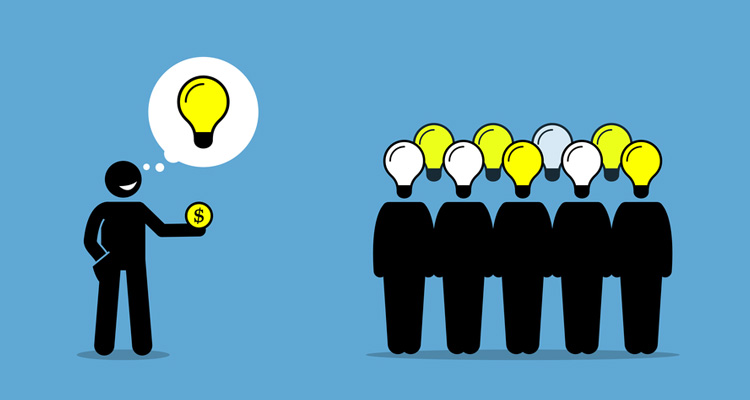 Contribute to other authority sites of your niche.
For example, writing an occasional guest post for a website like Forbes.
It will increase your visibility.  You will not only get a backlink, but every visitor will see the author profile.
Moz is a big name in the field of digital marketing. You will occasionally find useful posts from contributors on its blog.
Normally, I wouldn't have read any article of those contributors – but seeing their post is published on Moz, gave me an impression that they must know their field.
This is a strong brand building signal!
Your target audience will experience the same and direct to your website.
Get Featured in Press
Famous brands are always in the news. They are popular, and people want to know about them.
Google shares the same thought.
That's why getting featured in the press is one of the brand building signals.
Facebook is a social media site and a huge brand.  A piece of news is published on Facebook every few hours.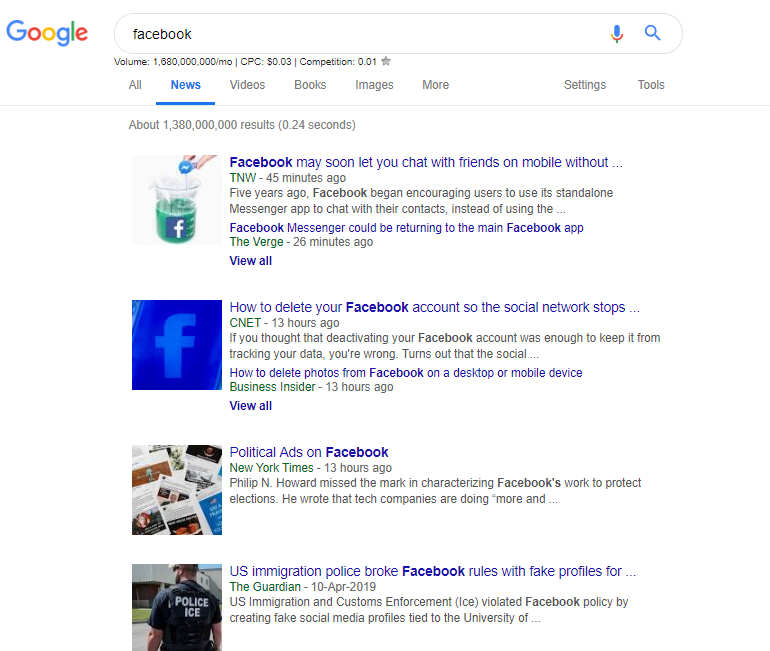 If your business is not famous, it is very unlikely for news channels to write on it.
That's why you will publish press releases.
A press release is providing information through newspapers or news channels.
Occasionally featuring in news channels is a good brand building strategy. Here you can see a few examples of a press release.
Provide Extra Ordinary Service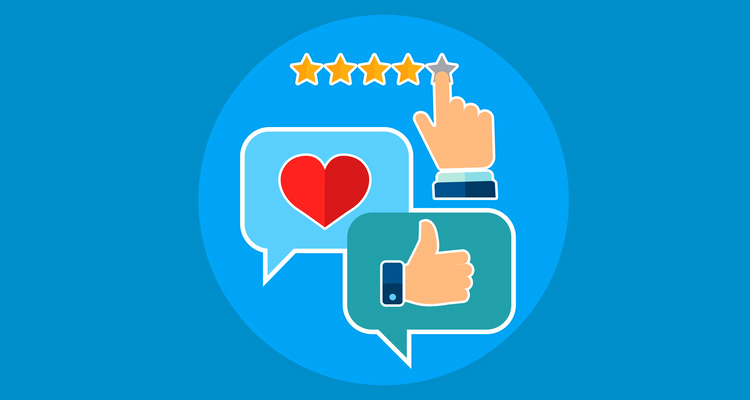 You have competition no matter what niche you choose for your business.
In order to become a brand, you have to outshine all your competitors.
Do you know the best way to do that?
Provide a service that no one can provide and fascinate your audience.
Your customers will spread the word for you. You can write a hundred articles in your appraisal but one bad review from a customer can destroy it all.
Customer reviews are powerful. Make sure you only get the best of them.
Whether you sell a product or provide some services, do it to impress your customers. Learn the proper way of content marketing to attract and engage customers. You will earn plenty when they are satisfied.
Conclusion:
That was all for SEO branding tips and tricks.
Brands are the businesses that user and Google trust. In order to become a brand, you must be open yourself and best at what you do.
Show that you are a business in real life with an office and employees. You should be a part of all relevant directories and associations of your niche.
Create your social media following, increase branded search, and use branded anchor text backlinks.
The more people talk about your business, the bigger brand you become.
Any query? Let me know!